Automotive and Light Industry Applications AMB Bearings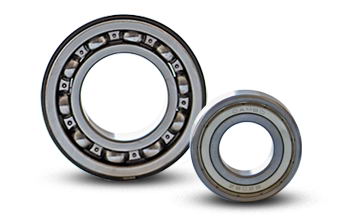 CORAPSA has a wide variety of bearing categories for Automotive and Light Industry applications that offer the best solution, whatever your specific need.
These categories of products in AMB Automotive and Industrial Bearings include the following types of bearings:
Miniature Balls Bearings have a low outer diameter. Their design and low dimensions provide optimal performance in applications such as light industry precision instrument manufacturing.
Some of these applications are dental instruments, medical equipment, manufacturing machines and motors.
ZZ type are some of the most commonly used Ball Bearings and have no contact type metal caps. For more information consult our AMB Miniature Ball Bearing specifications.
The single row R and RLS Series Balls Bearings are available in different diameter sizes. Their design and construction allow these bearings to carry a radial loads. R2 and R3 Ball Bearings are also used in printers.
Consult our AMB R and RLS Series Ball Bearings specifications. Contact us if you need more help and technical support about the applications of these bearings and all of CORAPSA's line of bearings.
At CORAPSA we have a wide range of Automotive Bearings and for Light Industry applications, including our Double Row Ball Bearings, Axial Ball Bearings and Angular Contact Ball Bearings.
Double Row Ball Bearings offer the advantage of performing the work of two bearings at the same time with less space and lower cost. The most commonly used are the 3200 and 3300 series. These are angular contact bearings that come with seals and protective cap presentations. These bearings are suited for automotive pumps and wheels.
Axial Ball Bearings are specially designed to carry axial loads. The load can be simple or of double effect, carrying axial loads in one or two directions. These types of bearings have a lower raceway or outer ring, and a top raceway or inner ring.
Angular Contact Ball Bearings are suited to carry radial loads and axial loads in one direction. The inner and outer rings in these bearings have high and low shoulders to transfer the load. The high shoulder increases the axial load.
They are called angular contact bearings because the line joining the points of contact of the inner ring, the ball and the outer ring forms a contact angle with the radial plane. These means the due to the effect produced by this contact angle, these bearings have to be placed in pairs or combined. When placed face-to-face or back-to-back they can carry axial loads in both directions.
These bearings are available in several contact angles. The axial load carrying capacity increases with an increasing contact angle. The most common are the 7000 series with a smaller contact angle and best suited for Light Industry applications for tools that require a low axial load, high-speeds and rotating precision.
CORAPSA offers you a wide variety of Cylindrical Roller Bearings and Wheel Bearings for automobile applications.
Cylindrical Bearings provide the advantage of carrying high radial loads at high speeds. This high radial capacity comes from using rollers that provide a line contact with the raceways. The rollers are guided by flanges on the inner and outer rings; and because they can be dismantled, they are easier to fit and remove.
CORAPSA's Cylindrical Automotive Bearings are designed, among others, for the following applications: Rear wheels for different auto and truck makes, truck pinions, gearboxes and transmission bearings.
For more information consult our AMB Cylindrical Roller Bearing specifications.
This type of bearings is called Needle Bearings because their rollers are long and thin in relation to their diameter. They have a low transversal section and therefore Needle Bearings require less space and are used where radial space is limited. Notwithstanding their small size, these bearings can carry high radial loads.
CORAPSA's Needle Bearings are designed for manual forklifts. For more information consult our AMB INA Type Needle Bearings specifications.
CORAPSA's different types of Automotive Bearings include the AMB Steering and the Axle Shaft Bearings line of products. These bearings can be used with different auto and truck makes and models.
For more information on our variety of AMB Automotive Bearings, consult our AMB Steering Bearings specifications or Axle Shaft Bearings specifications
AMB Alternator Bearings are double row needle roller bearings for alternators in Automotive, Light Industry and Agriculture applications.
These bearings are manufactured with the materials and thermal treatment required for a longer working life in high-speed and vibration conditions.
Consult our AMB Alternator Bearings specifications for more information on their applications.
CORAPSA's wide line of Automotive Bearings includes our Air Conditioning Compressor Bearings. For more information on these bearings's applications, please consult our AMB Compressor Bearings specifications.