AMB Universal Joints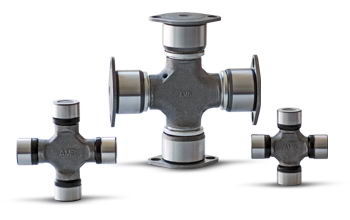 The extensive line of auto parts commercialized by CORAPSA includes our AMB Universal Joints available for the major automobile and truck makes.
Also known as U Joint and Universal Coupling, the Universal Joint must resist some of the harshest conditions among the driveshaft components. The U Joint must bend, stretch and twist while being submitted to arduous stress during its operation. If it suffers any damage, the vehicle cannot work; therefore it is one of the most critical auto parts. It is fundamental to be sure its manufacturing, installation and maintenance, including its lubrication, are adequate to provide a long working life.
CORAPSA's AMB Universal Joints have the features to provide the performance demanded by the different auto and truck makes.
The Universal Joint is located at the end of the driveshaft. It compensates for angles due to variation in height in a vehicle and misalignment caused by the natural wear of components.
To better understand the work and importance of these U-Joints, it is important to first have general information on driveshaft system used and how it works.
An AMB Universal Joint helps the driveshaft work at different angles. At the same time, its sliding function allows variations in the driveshaft's length.
There are different types of automobile drive systems such as:
Rear Wheel drive

: commonly used in passenger buses, light trucks, pick-up trucks and heavy duty vehicles.

Front Wheel drive

: this is the system most commonly used in passenger vehicles today.

4 Wheel drive

: used in some cars, light trucks and commercial trucks.
In all these types of transmission, with exception of the front wheel drive, U Joints are a fundamental part for the vehicle's operation.
Please visit our AMB Universal Joint specifications for more information about these products and their applications.