AMB Tensioner Bearings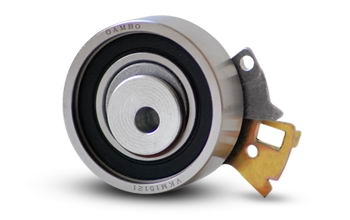 At CORAPSA our AMB Pulleys and Tensioner Bearings for automobile belts come in a wide variety of sizes and designs, including alternator and distribution belts.
The extensive line of products for automobile parts and bearings include a number of Tensioner Pulleys and Bearings to meet your needs.
Tensioner Bearings take advantage of the great features offered by ball bearings such as their excellent performance in high speeds, low maintenance and low price, and are easy to install.
We have different types of Pulleys and Tensioner Bearings such as:
Belt idlers for different vehicle makes
Alternator Belt tensioners
Distribution Belt pulleys
Idler Pulleys.
Pulleys and Tensioner Bearings are used in automobile belts and their operation is critical for the vehicle's performance.
The alternator is one of the most important parts of your car, especially with today's trends in car design that are increasingly dependent on electronic controls and therefore on the alternator's good performance.
The distribution belt synchronizes the four strokes of the engine. This band is so important that if it fails it can seriously damage the engine.
The tension both in the alternator belt and in the distribution belt is fundamental because of the operating conditions they must endure. An excessive tension can cause a premature wear of the belt and it could even break.
AMB Pulleys and Tensioner Bearings
are placed on the belt, adequately increasing its tension. Our Pulleys and Tensioner Bearings are designed for major American, European and Japanese vehicle makes.
For more information about our Pulleys and Bearings for the
alternator belt
, distribution belt and other products, visit our
AMB Tensioner Bearings specifications
.