AMB Agriculture Application Bearings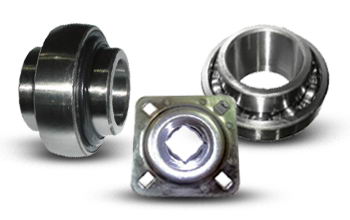 Within the wide variety of bearings for a number of applications, CORAPSA offers you the extensive line of AMB Agriculture Application Bearings.
These bearings, specifically designed for farming equipment, provide the working life and performance features required by today's modern agricultural activities.
Farming equipment and machinery, and their replacement parts, must endure hard working conditions and heavy loads, and at the same time provide a reliable operation and long working life.
AMB Agriculture Application Bearings not only provide these performance advantages, but also the versatility that both manufacturers and distributors of agriculture parts require to satisfy the increasing demand of bearings for a wide variety of farming equipment and machinery.
We have different types of bearings for major manufacturers of farming equipment:
Harrow Bearings in an extensive variety of sizes and designs: round and square inlets, flat exterior, square shaft inlet.
Bearings for tiller tractors, sowing tractors, packing machines and bean harvesting equipment.
Farming Bearings in different sizes and inlets: round, hexagonal, square and shaft inlet.
Double bearings for tractor alternators.
Taper Roller Bearings with Cups for Farming Equipment such as light harrows and sugarcane carts.
Ball Bearings.
Cylindrical Roller Bearings and Spherical Roller Bearings in different sizes for agriculture replacement parts.
Farming Bearing Units in several sizes for packing machines.
Farming Bearing Housing with eccentric collar.
We do not only offer you solutions for your Agriculture Application Bearings, we also have a help and technical support section and we'll help you select the best bearing for your specific needs.
For more information please consult our AMB Agriculture Application Bearings specifications.